Hardwood Stairs
Create the Home of Your Dreams
Are Hardwood Stairs A Part Of Your Vision For The Perfect Home?
Good Ol' Boy Hardwood Floors can help make your dream a reality. We offer a wide range of flooring services, from installation to refinishing and staining, to ensure we're your trusted, one-stop shop for hardwood flooring in the Kansas City area.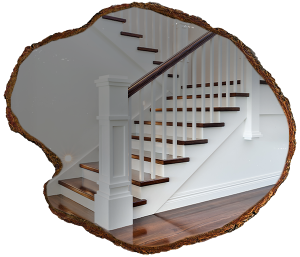 Why Choose Good Ol' Boy Hardwood Floors:
A team of dedicated, safety-oriented, licensed flooring contractors
More than 30 years of combined experience
Many materials, styles, and colors of hardwood to choose from
Timely project completion
A locally owned company
Hardwood Stairs
Hardwood floors are a gorgeous choice for your home or business. But why stop with just your floors? With Good Ol' Boy Hardwood Floors, you can match your staircase to your new floors with hardwood stairs. Our team can help you order materials with the right finish to continue your beautiful design scheme to the next floor, and we have an experienced team of contractors with plenty of experience installing hardwood on stairs. Read on to learn more, and contact Good Ol' Boy Hardwood Floors to get started!
Treads
Treads are the horizontal piece composing your stairs that you step on to go up or down. It is made with a full plank of wood, typically with a rounded edge on the front for a more finished look. Open staircases often use a tread with a "return," which refers to another rounded edge on the other side. If you are installing hardwood stairs as a unique project, make sure you choose a durable wood variety for your treads that can handle the traffic of residents going up and down several times a day.
Risers
Risers are the vertical pieces in between stair treads. Many staircase designs these days include a different color, finish, or wood variety altogether for the risers to create a two-tone look that pops. Risers don't experience the same wear and tear as your stair treads, so you have the option to use a softer, alternative wood for your risers or paint them without major concerns for scuffing or damage.
Trust The Professionals
Installing hardwood stair treads and risers is a complex project that should be left to the professionals. Every part must be fully glued to the stair structure to ensure your hardwood stairs are safe and secure. Customization and installation of your treads and risers also requires a variety of power tools. At Good Ol' Boy Hardwood Floors, our team of experienced, licensed contractors will handle every step and complete your project in a timely manner.
Contact us today to install hardwood stairs in your Kansas City home or office!