Walnut Floors
A Statement Species
Bring Home Beauty And Durability
If you are looking for a unique choice for your hardwood floors, then walnut has a wide variety of color and style options to explore. Two very different species offer very different advantages — read on to learn more.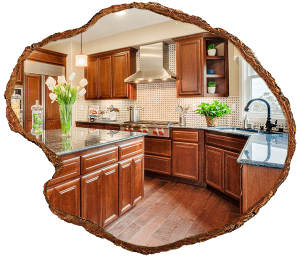 Benefits Of Walnut:
Paints and stains well
Wide variety of color options
Strong, swirling grain
Walnut Floors
Walnut hardwood is used in many different capacities, from furniture to gun stocks, but it is not commonly seen in wood floors or stairs, despite its beauty and durability. Walnut is undoubtedly a statement species of hardwood, with a bold grain and a wide variety of color options. It is also available in two very different species, so you can choose which material best matches your needs without sacrificing the unforgettable look of walnut.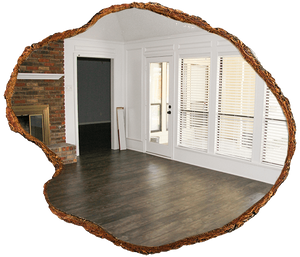 Color And Style
One of the strongest characteristics of walnut is the wide variety in color. It ranges from a neutral tan color to a very dark brown. You can even see a range of color within a single board, which can provide an interesting, multidimensional look to your wood flooring. Often, walnut hardwood is chosen in the darkest varieties, where the color nears black and can almost look purple in some cases. Black walnut can provide an excellent contrast if you utilize lighter design elements throughout a room, like furniture made from paler woods.
Another well-known characteristic of walnut hardwood is its strong grain. There is a lot of variation in grain patterns between species, but almost all stand out when compared to other types of wood. Walnut wood typically takes well to stains or paint, but keep in mind that the swirling grain pattern will stand out through most color treatments. If you prize this authentic look, then walnut is a gorgeous choice for your next project.
Domestic And International Species
American Walnut
Walnut hardwood is available within the U.S., and in some cases it is used as a more budget-friendly alternative to red oak. It is one of the softer hardwood varieties available, so be wary of where you plan to install it and the traffic levels you anticipate for that room. If bold style and affordability are important factors to you, however, then you can pair your American walnut floors with a durable, high-quality finish.
Brazilian Walnut
Brazilian walnut, also called Ibe, is another variety offered for hardwood flooring. Unlike its American counterpart, Brazilian walnut is known for its high Janka rating. A high Janka rating indicates a very hard, and therefore durable, hardwood. No type of wood flooring is impervious to scratches and dents, however, and Brazilian walnut is often a much more expensive choice because it is imported. If you are looking for a low maintenance species for your hardwood floors, though, Brazilian walnut is one of your best options.
Whether you have decided that walnut floors are the best choice for your home or you want to learn more about the advantages and disadvantages, the team at Good Ol' Boy Hardwood Floors is here for you. We'll help you explore your options with a personal consultation, and then provide the high-quality services you need throughout the lifetime of your flooring. You can trust us with installation, staining, refinishing, and more. To find your perfect partner in your next flooring project, contact Good Ol' Boy Hardwood Floors today!
Invest In Walnut Hardwood Floors Today